Resources for Dyslexia
For Parents,
Teachers
and Tutors
We even have distance
learning tools!
Dyslexia Reading Programs for All Ages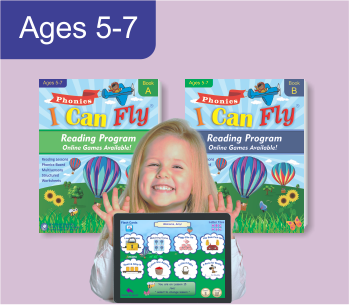 Our Programs for Three Age Groups
Individuals who are dyslexic can be taught to read at any age; this is why we have three reading programs for dyslexia. Each program is for a different age group, and is based on maturity level, not reading level. The material taught is the same, however, the way it is presented is more appropriate for the age of the student*. Our workbooks for dyslexia are lesson-based and provide explicit instruction in reading. They are highly structured, and the apps that accompany them provide the multisensory component that makes the reading programs more effective as well as fun. The dyslexia reading programs, for each age group are defined below.


1. Dyslexic children, ages 5 to 7, are usually not diagnosed at this point. Since dyslexia is a language based disorder, we recommend our I Can Fly Reading Program for children who've had speech delays and/or needed speech therapy. This program is also useful for children who have auditory processing disorder (APD), autism, down syndrome, or other learning difficulties. The I Can Fly Reading Program will start with the very basics, letter recognition, and progress through many of the sounds and rules. This program is comprised of two lesson-based workbooks and a web app that has games and rewards that a younger student would love.
*This program does not teach the more complicated rules and sounds that the other two programs teach.

2. Blast Off to Reading, for students ages 7 to 13, teaches the same material as A Workbook for Dyslexics (13+), however, it has shorter exercises and word lists, and the Blast Off App contains activities that a child this age would enjoy . The app also contains phonics tools, such as a letter tile app and online phonics flash cards, which make teaching more engaging; these tools are also very useful for remote teaching. The dictation part of the Blast Off program app fosters independent work, which is an important component in building self-esteem and confidence. Our Blast Off program is a complete reading program that ensures your student will learn to read everything from the most basic phonemes to the more complex, multisyllable words.

3. A Workbook for Dyslexics, ages 13+, has longer word lists and exercises, and an app that contains the dictations and flash cards. This program is designed for adults, however, an instructor who is either a tutor or a proficient reader, is still needed to work with the student. Like Blast Off to Reading, this dyslexia workbook with the app will cover everything from phonemes to complex multisyllable words.
Parents - You Can Teach Your Child to Read!
Our reading programs are research-based, explicit, structured, easy-to-use, multisensory and interactive. Lessons are structured to not be overwhelming and to instill confidence. You will be guided step-by-step so that nothing is missed. As long as you are a proficient reader and share the same accent as your child, you can teach your child to read. No training is needed. Kids enjoy our programs, not just because of the fun apps, but because they're not frustrated, and they know they're learning. All apps come with the program, no subscriptions and no fees. There really isn't an easier, more effective way to help your child. Read more about teaching your dyslexic child to read.
Teachers & Tutors - Our Programs Are All Under $35
Programs like ours often cost hundreds of dollars per student, and some require special training and certifications. Our reading programs are the most affordable reading programs for dyslexia on the market; and using our bulk channels, our programs can be 50% or more off the list price. For example, our Blast Off to Reading program is available for only $13.25 per student. Our reading program slides can be used for Smart Board teaching or for teaching remotely, and since our apps are online, these can also be used for remote teaching using a screen sharing program. Our programs can stand alone on their own or be incorporated into other reading programs as a supplement. There is no training or certification needed, and little to no lesson planning - just open the book and teach. Read more about tutoring dyslexic students and teaching dyslexic students in the classroom.
Most apps can be played on most browsers!

That means you don't need any special devices,
you can even play on a Smart Board.
Why Choose our Orton-Gillingham Reading Programs for Dyslexia
All of our programs use the Orton-Gillingham approach, which has been proven over many decades to be the best, most effective way to teach a dyslexic student to read. Read more about this method and how our programs use this approach.

Our reading programs are cumulative with built in repetition. To avoid frustration, your student will not be expected to read what has not yet been taught. They will gradually build their reading skills and gain confidence. Our reviews and direct experience show that students finally feel successful using our programs.

Our programs are flexible. If your student needs extra help in a specific sound or rule, simply add more time to the online activities for your reading program.

Our programs stand alone. You do not need to go through each of our reading programs, they stand alone for your child's specific age group. One reading program is not a prerequisite to the next. Our goal is to get the student to read at grade level as quickly as possible. Once the program is completed, your student should gain fluency by reading real books that interest them using the side-by-side reading method.

All online games and tools, from this website, for your reading program are included. All you need to do is open the app and enter the code from the book that it asks for, and you are good to go! No extra fees or subscriptions!

Our programs are perfect for schools and tutoring companies, offering bulk rates and distance learning tools. This is the simplest, most affordable Orton-Gillingham reading program on the market, ensuring you cover all sounds and rules in a fun, effective manner.
Check Out Our Reviews!

Each of our programs has many reviews, go to their pages on Amazon to read more.
Teaching not for you? Choose a tutor from our network.

We are working toward offering a FREE tutor referral service. This is still in the works and teachers may not be available at this time.
If you're a teacher, with Orton-Gillingham experience, learn about joining our NO FEE tutor referral network!
About Blast Off to Learning Press
Meet Cheryl!

In 2004, my 8 year-old dyslexic daughter (with a severe working memory deficiency) was unable to read. Despite hiring tutors and receiving the resource room with an IEP, her reading barely improved. When she was in 4th grade, I decided to homeschool her. I taught her to read in a way that made sense to me, which was to start at the very beginning and essentially teach her to read from scratch. I combined worksheets with visuals, flash cards, and other manipulatives in a repetitive manner. This structured approach worked. In three months, she was reading books on her own. At the end of the school year, she received a 6.1 reading level on the Stafford Test (she was a 4.8 at the time). Amazing! But why did this work?

At that point, I backtracked with my research and found that I stumbled on the Orton-Gillingham approach without realizing it. My next question was, why isn't reading taught like this in the schools, and why are there no resources available to parents? So, in 2006, A Workbook for Dyslexics was published so that parents could help their children at home. Since that time, I started a tutoring company, Reading Specialists of Long Island, and with my increased experience with dyslexia, I went on to create Blast Off to Reading! and the I Can Fly Reading Program. As I used these programs on my students, I was able to see what worked and what didn't, and I was able to make adjustments for improvements. My goal was to create affordable, effective reading programs that can be used by parents, teachers and tutors.

In 2016, I added the online web apps. As a former engineer with a software background, I felt that adding technology to my reading programs would make the process of learning to read more fun, and it would provide the multisensory component that would make the programs more effective. I didn't have to force my students to play the games after the lessons, they loved them! They would even offer suggestions and ideas.

Blast Off to Learning Press is an ongoing labor of love. I strive to make and improve products that can help these smart, bright, funny kiddos learn to read. Because once they learn to read, there's no stopping them!