If you're a teacher and are reading this, then you most likely are searching for something to help your dyslexic students. Our programs can be used in small groups as well as one-on-one. They are simple to use, no training needed, and effective.
Helping Your Students
If you've been reading about dyslexia, or attended workshops or conferences, or maybe even in a college class, you probably have heard about the "Orton-Gillingham Approach" as being the best, most effective way to teach a dyslexic student to read (read more about the Orton-Gillingham Approach to teach reading).

To choose an Orton-Gillingham based program there are many factors to consider, the top three being 1) effectiveness, 2) ease of use, and 3) affordability.
Effectiveness
What determines the effectiveness of a program is how much the reading level is improved and how long it takes. This is highly dependent on many factors, such as: how often the program is implemented, the group size, the student's capability to focus, the age of the student, and the starting reading level of the student. Any program using the Orton-Gillingham (OG) approach will be effective, as long as it is follows the OG specifications.
Ease of Use
What makes our OG programs easy to use is how they are laid out; you will not have to create a lesson plan. This is a valuable time saver for you and it eliminates the chance of missing a sound or rule that will be needed. In addition, the programs have a constant review built in, something that is required in a highly structured program. Often, programs that are not highly structured will miss this, or not do it effectively. You will still have to monitor your students to determine where the extra help is needed; this is where you choose which games to play, or which flash cards to spend more time reviewing.

If you're using a Smart Board or are remote teaching, we have electronic versions of our programs as teachers' manuals for presenting to a class, click here for more information. Since all of our online tools are HTML5 based, they act just like a website. If your classroom uses a Smart Board, you will be able to review the flash cards with your group on the board. You can also run the dictations and games. Your students can play the games on any device, and any number of devices, that is HTML5 compatible (such as a Chrome Book, an iPad, iPhone, PC, etc.).

We also offer physical games that are perfect for the resource room, such as our Phonics Bingo Game, Phonics Matching Game, etc. (see our physical games).
Affordability
All of our programs are under $40; some more than 50% off the list price with our bulk prices (see our bulk prices). For example, our Blast Off to Reading! program is $13.25 per student. You will need to purchase one workbook for each student as well as one for yourself, unless you purchase the Teacher's Manual. All of the instructions are contained in each lesson workbook, nothing else is required. You will have complete access to: 1) the online flash cards, 2) the online dictations, and 3) all the online games and phonics tools.
How to Get Started
To learn more about our reading programs for dyslexia, choose the reading program for the age group that you teach (see below). If you make your decision to purchase, go to our bulk page for an automatic quote. Note that for bulk orders, fifteen or more books (combined) must be ordered. If you only need a few books, you can purchase them through our site, on the book's product page with a credit card or a PayPal account. Orders usually ship within five business days. Note that each student should have their own workbook, and sharing codes to access the online web apps is not permitted.

Everything that goes with the program (the flash cards, dictations, and all games) can be found on the book's product page. We suggest you bookmark this page for future use.
Select your student's age group below, to read about our dyslexia reading programs.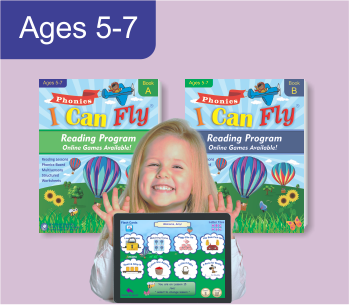 If you're a teacher with Orton-Gillingham experience, join our network for student referrals!