If you're an experienced dyslexia tutor or new to dyslexia, our reading programs will help make your sessions more effective. Our programs require no training, are easy to use, and students love the games that go with them. In addition, our reading programs are based on the Orton-Gillingham Approach to teach reading. This approach has been scientifically proven to be the most effective way to teach a dyslexic student to read. Read about the Orton-Gillingham approach.
Tutoring a Dyslexic Student with Our Programs for Dyslexia
Whether you're tutoring remotely or with your student present, our programs will help you create a confident reader. Our programs are sequential and complete, organized into lesson-based workbook(s) with online web apps that can be used on most browsers. Our apps make learning fun for your student and makes teaching easy for you. Everything is in one place, you won't have to keep track of booklets, worksheets, flash cards, letter tiles, etc.

We, at Blast Off to Learning Press, have tutored many dyslexic students, and we know what works and what doesn't. We find that dyslexic students are easily frustrated, and need a program that keeps moving forward. Our programs have built in review, so there is no need to wait for mastery on a lesson. The exercises are short and varied, so students don't get bored. The online games are used at the end of the lesson, so your student will leave on a happy note.

If you're tutoring multiple students, with the same reading program, each student must have their own book. When you meet with your student, it's easy to pick up where you left off, just open your student's book to where you were last. This saves your time in that there's no lesson preparation, which is needed when you're juggling multiple students who are at different stages in a program.

All of our programs follow the same structure: 1. Review the online flash cards using the web app, 2. check the students dictation homework (not for the I Can Fly Reading Program), 3. present the lesson and do the exercises with your student, and 4. play the phonics games (online or physical) or read text such as a short story or book, which is done only after the long vowel lesson. Note that all activities just described are meant to be done with your student (we recommend sitting next to your student, not across).


Select your student's age group below, to read about our dyslexia reading programs.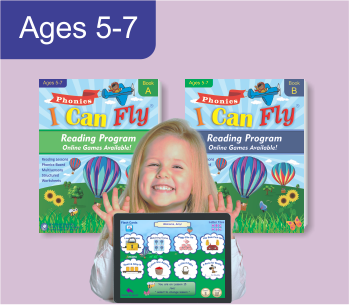 Distance Learning with Our Programs
If you are working remotely, Blast Off to Reading and the I Can Fly Reading Program, have teachers' manuals that can be used for this purpose. The teachers' manual is an electronic version of the program that contain all workbooks sheets, instructions, and presentation slides to teach the lessons. The teachers' manual is in Kindle format, available on Amazon. Note that you do not need a Kindle to use Amazon's free Kindle app. The Kindle app can be downloaded on PCs and Macs. Open the Kindle app on your PC or Mac, open the teacher's manual, then using screen sharing software to present the lesson remotely. The slides are made to be interactive to engage your student, prompting your student to answer questions as the lesson is presented. Since our phonics games and tools are online in the web app, these can also be screen shared. Read more about remote teaching.
How to Help Your Dyslexic Student
Session Length and Duration
Most tutors meet with their students for one hour twice a week; once a week will draw out the program and it will not be as effective as it should be. Once a week is not recommended. For younger students, sessions can be 45 minutes in length.

To estimate the number sessions to complete the program, take the total number of lessons for the program you're using, and then add an additional quantity that you think would be needed, which would depend on the child. Usually this is another 25%. For example, for our Blast Off to Reading Program, there are 50 lessons with 5 review lessons for a total of 55, thus resulting in an average of 70 sessions to complete the program.
After the Program
Once the program is complete, tutors often continue working with their students, doing more side-by-side reading, as well as concentrating more on spelling and writing.
What should the student read?
When tutoring a student aged 7 or above, the time your student spends reading with you is very short (10-15 minutes a session). Because of this, it is not recommended that you choose a novel; short stories or magazine articles are ideal, since you can usually finish them in one sitting. If your student is reading a novel, then either he or she must also read (with a proficient reader) at home, otherwise it is very likely that it will take too long and interest will be lost and the book will never be finished. We recommend the following short stories: 5 Minute Spiderman Stories, 5 Minute Avengers Stories, and 5 Minute Batman Stories.


We offer bulk rates for tutoring facilities!
More Resources for Tutoring